newsletter
DeveloPassion's Newsletter #130 - Delayed Gratification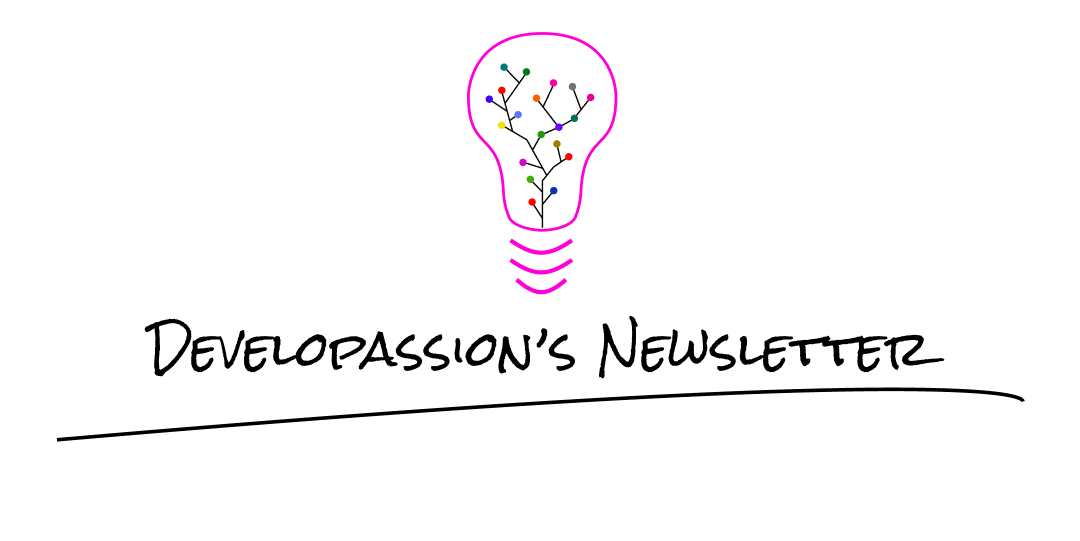 Welcome to the 130th edition
Another week, another newsletter! I hope that you all had a great one 🤩
This week, while I appear in your mailbox as usual, I'm actually not around. I'm on vacation for two weeks. Still, I wanted to keep showing up.
During my vacation, I plan to rest, relax, have fun with the kids, and enjoy the sun of southern France (not necessarily in that order). I also want to spend some time planning the months ahead. We're already in the third quarter of 2023. Time flies!
Among the projects I want to work on next, there are:
The Obsidian Startrer Kit, which deserves some more attention. I want to increase the automation level, and add some dynamic behavior. I have some ideas with a few plugins I found recently. I also plan to add a ChatGPT plugin and means to ask questions directly to my knowledge base. Last but not least, I want to integrate notion-like databases
The Obsidian Starter Kit Course, which will be an upsell for the starter kit, and will allow me to better explain (in context), what I've tried to convey with the current (text-based) user guide
The Obsidian Starter Course, which will be a video course to help people get started with Obsidian. This will be a separate product that will focus entirely on Obsidian (and not the starter kit)
The PKM Starter Course. That one will focus on Personal Knowledge Management concepts, and techniques for note-taking, note-making, and knowledge management. This will also be a separate product, which should help all knowledge workers get started with PKM, whether they want to use Obsidian or something else
The PKM Library, for which I have a few hundred new resources to add
The Obsidian Publisher plugin, which I want to bring to v1. It can already publish/update 1-n notes as corresponding articles, and can also upload images (currently only to Cloudinary). I need to handle link replacement (making so that linked notes become linked posts online. I also want to add support for Substack
Once I have reached v1 with the Obsidian plugin, I want to create a program-agnostic API to publish and cross post notes to different platforms. Once that API is ready, I'll create a new plugin for Obsidian, and I'll sell access to the API. Later on, I want to integrate that API with other tools in the PKM space. This generic API + plugins should enable other content creators to write their content once, and easily publish/update it everywhere they need
My YouTube channel, which I have not been very successful with so far, by lack of audacity, mostly
Knowii, which is still in its very early days, but for which I see enormous potential. I just need to free up more time to make progress on it. I really believe that communities deserve better means to gather/share their knowledge and resources
This newsletter, which I want to better monetize. I sometimes dream of having 500+ paying members. It's a hard goal to reach, but I will probably get there if I keep providing interesting/useful content. For that project, I count on my consistency and my endless curiosity
My online communities
And so much more that I'm thinking about... ❤️
I hope that you'll all spend a wonderful summer, and will recharge your batteries. Make sure to also update your personal plans, and determine where you want to focus your attention next. Clear goals, priorities, laser focus and consistency are the real keys to success. I have zero doubt about that!
The lab 🧪
The lab is on holiday! 🎉
Quotes of the week
"Set ambitious goals, but allow yourself a limited number of emergency passes when you slip up" — Katy Milkman
"It's not about who does it first. It's about who does it right"
About Sébastien
Hello everyone! I'm Sébastien Dubois. I'm an author, founder, and CTO. I write books and articles about software development & IT, personal knowledge management, personal organization, and productivity. I also craft lovely digital products 🚀

If you've enjoyed this article and want to read more like this, then become a subscriber, check out my Obsidian Starter Kit, the PKM Library, my PKM coaching page, my collection of books about software development and the IT Concepts Wall 🔥.

You can follow me on Twitter 🐦

If you want to discuss, then don't hesitate to join the Personal Knowledge Management community or the Software Crafters community.