newsletter
DeveloPassion's Newsletter - Black Friday Experiments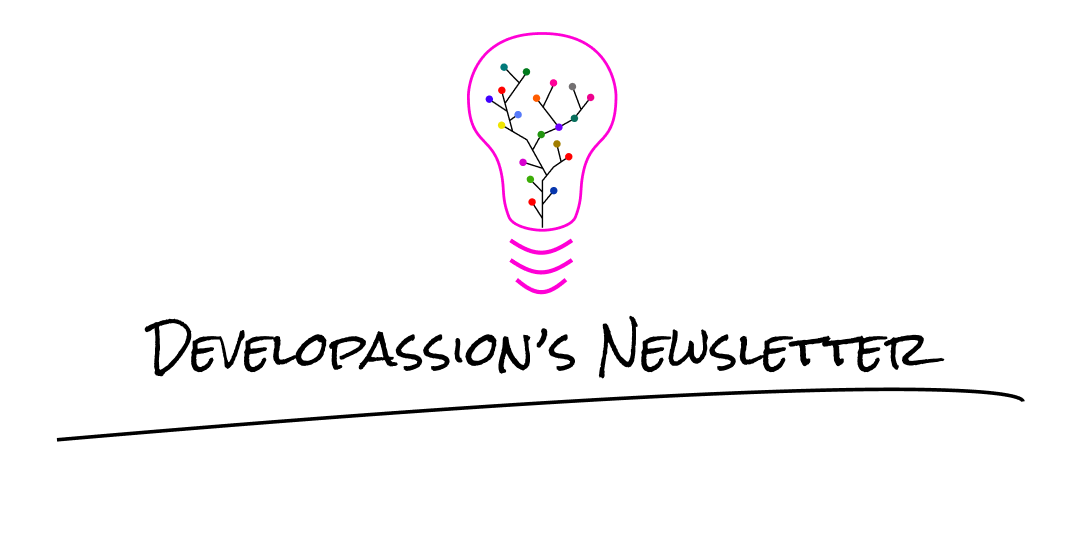 Welcome to the 97th edition
Another week, another newsletter! I hope that you all had a great one 🤩
This week, I've been quite busy watching football matches with friends. The World cup is here, and it's hard to resist following it. It's one of the rare sports events that I'm interested in ;-)
Still, I took some time to work on my projects! I've published a new article, played the Hacker News "roulette" and experimented with Black Friday promotions.
Alright, let's goooooo 🚀
This week has been pretty fun in my lab.
After publishing my latest article, I've decided to share it on Hacker News. Luckily, it made its way to the front page, which resulted in a spike in visits to my blog.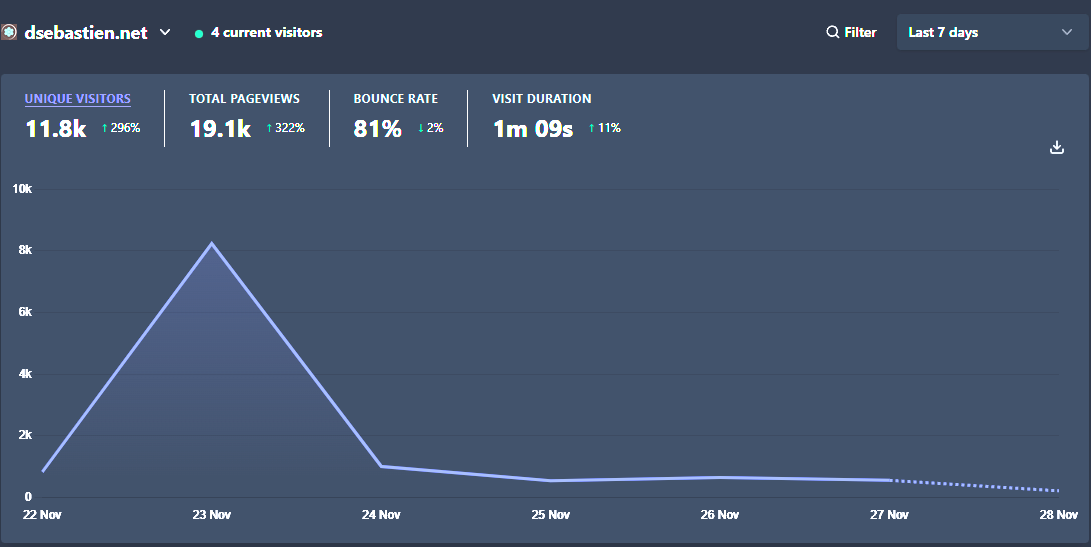 I've decided to give in to the Black Friday game and launched two different promotions for my products.
The first promotion I've launched is a -20% price reduction for all my products
on Gumroad
. I've announced that one via Twitter and LinkedIn. Following the announcement, I made a few sales, encouraging me to go further.
After that, I offered a -50% coupon code for the
Obsidian Starter Kit
to my existing customers who didn't have it yet. And I did the same for the Personal Knowledge Library. That second promotion had a lot more success, with a ~10% conversion rate.
Thanks to those promotions, November has been the best month of the year so far, with 46 sales of the Obsidian Starter Kit (~$850) and 16 sales of the PKM Library (~$200).
Finally, I'm also offering
you
a deal today (CFR next section).
Aside from that, I've reached ~$150 on Medium this month, which is really cool. This is the result of the work I did to publish a few articles this month. This is encouraging, as it shows that my choice of cross-publishing articles is beneficial, as it generates revenue and lets me grow my audience as well.
So far, consulting remains my most important source of revenue, apart from my half-time job as an employee. But I still have hope to shift the balance towards products over time.
Since you're reading this newsletter, it means that you care at least a bit about what I have to say. To thank you for that, I want to offer you a -50% coupon code for
my products on Gumroad
.
Here's the code you can use:
blackfriday2022newsletter
This offer will remain valid for a few more days.
Keep your mind at peace. Take notes to keep track of what is on top of your mind
"Self-discipline is the ability to do what you should do, when you should do it, whether you feel like it or not"
"To know that you know what you know and to know that you know what you don't know, is true knowledge"
Genome offers extraordinary insight into the ramifications of this incredible breakthrough. By picking one newly discovered gene from each pair of chromosomes and telling its story, Matt Ridley recounts the history of our species and its ancestors from the dawn of life to the brink of future medicine
The open source release of Stable Diffusion version 2.
Thinking and learning links of the week
Cal Newport shares his secrets to his long form article writing system. Each week Cal provides an update on his various endeavors. Cal is currently working o…
An interview with Keith Blount, the founder, director and lead developer of Literature & Latte.
System commands & tips for making notes useful.
There have been lots of talk about how to be more productive. Techniques like Pomodoro are very popular where you will set a predefined timer for around 30–45 mins to work on something and then will…
Indie Hacking and bootstrapping
According to futurist (and Long Now board member) Paul Saffo, the "new economy" anticipated in the late 01990s is arriving late and in utterly unexpected way…
Each week we interview founders to give you more insights and data points on how they are building profitable Micro SaaS and other products.
I'm going to be honest with you: I hated sales. I began my career in customer support, and often felt like we were cleaning up messes sales reps created…
I'm a big fan of self-help books, and one of the pieces of advice I see a lot is 'to create your dream life you need to vividly picture what your dream…
Spring Boot. Contribute to spring-projects/spring-boot development by creating an account on GitHub.
Level up your Java code and explore what Spring can do for you.
VMware shipped the experimental Spring Modulith project to better structure Spring Boot 3 applications with modules and events. The project introduces new classes and annotations but doesn't generate
Level up your Java code and explore what Spring can do for you.
D2 is a modern diagram scripting language that turns text to diagrams. - GitHub - terrastruct/d2: D2 is a modern diagram scripting language that turns text to diagrams.
Dagger is an open-source devkit for CI/CD. It works using Cue, which helps to validate and define text-based and dynamic configurations.
About Sébastien
Hello everyone! I'm Sébastien Dubois. I'm an author, founder, and CTO. I write books and articles about software development & IT, personal knowledge management, personal organization, and productivity. I also craft lovely digital products 🚀

If you've enjoyed this article and want to read more like this, then become a subscriber, check out my Obsidian Starter Kit, the PKM Library and my collection of books about software development 🔥.

You can follow me on Twitter 🐦

If you want to discuss, then don't hesitate to join the Personal Knowledge Management community or the Software Crafters community.