newsletter
DeveloPassion's Newsletter - Broken records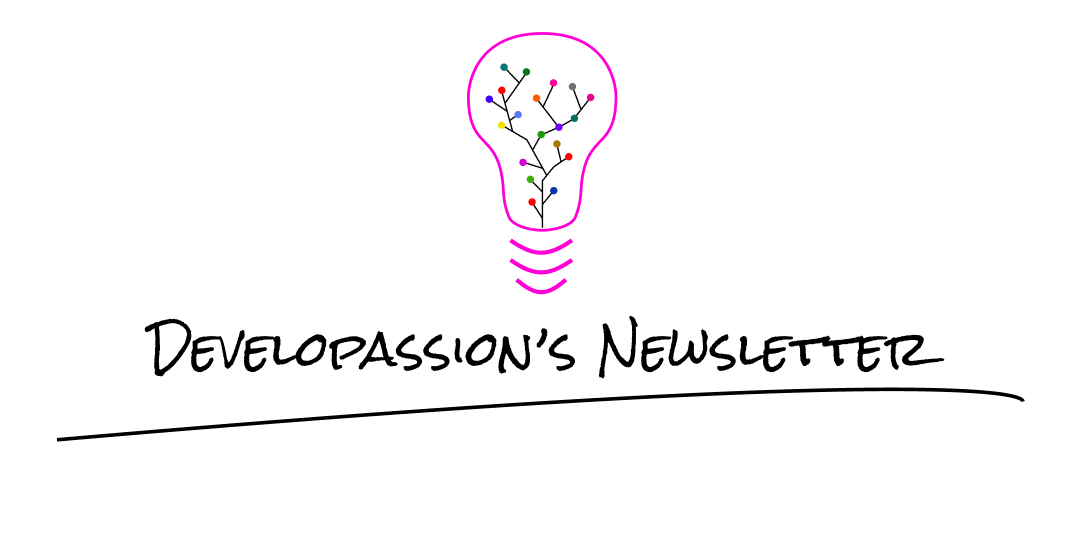 If this email was forwarded to you, then don't forget
to subscribe
.
Welcome to the 59th edition
Another week, another newsletter! I hope that you all had a great one 🤩
Welcome to all the new readers ❤️
This week, my ex and I have continued working in the house. It's a drag, but it needs to be done. It feels weird to see those rooms finally finished and beautiful, but ultimately for another family. There's no denying that it feels like failure. That's the image society sends us back. But I'm confident that it's for the best.
There's much more I'd like to discuss, but given how crowded this newsletter has become, I'd better not 😂
For some reason, the visits to my Website have flattened this week. I don't know yet why this has suddenly happened, but it's quite weird. I'm not even sure where to start looking ;-)
I haven't launched new experiments this week, as I'm really in over my head at the moment.
My
Obsidian Starter Kit
has been
really
successful. Last week I sold 24 copies ($280) and this week I've reached 49 sales in total ($740). I've raised the price twice (from $9.99 to $14.99 then to $19.99) and will soon increase it once more.
I've started producing more content for the accompanying user guide and will cross-posted some content on my blog.
Meanwhile, the
PKM Library
continued to generate steady revenue, which is quite cool!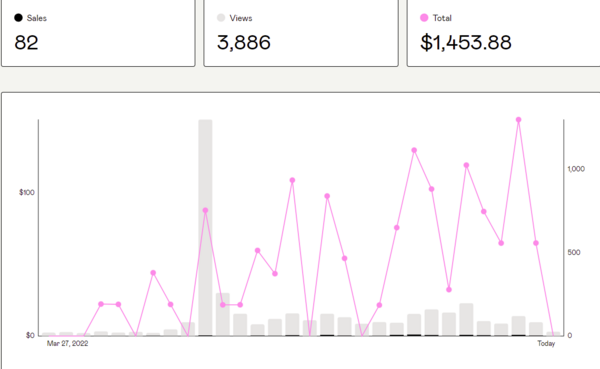 As you can see above, I've actually beat the record of sales made during the day when one of my articles was on top of Hacker News. I really didn't expect that.
In total, I've now reached ~1.5K in the last 30 days, which is quite a cool milestone. That is the combination of the Gumroad sales, the revenue of my articles on Medium, the ads on my Website, etc. And that's excluding the revenue I get through consulting 1-2 days a week 🎉.
Tiered pricing equilibrium
I've been thinking some more about tiered pricing this week. While I'm really sold on the approach, I must say that once the price goes a tad too close to the "limit", it becomes problematic.
Once the price gets high enough, potential customers' loss aversion makes them feel a risk. They ponder, take more time to decide, and either buy, wait some more, or forget about it. The effect is especially strong when a new tier has just been launched and there are many units left.
As a result, even with a risk reversal mechanism in place (i.e., a money-back guarantee), sales slow down.
When they do, our temptation as sellers is to react and go back to the previous price in order to avoid missing sales. But I'm not sure yet what the best reaction is at that point.
My current thinking is that I should at least wait a week to have more statistically relevant data before adjusting the price. But of course, it's a bit stressful.
The good news is that FOMO kicks in and counter-balances the negative effect once the number of remaining units gets low enough (i.e., 5-10).
I'm no economist, so take this all with a grain of salt 😂
I'll need to do some research about this.
Things I've learned this week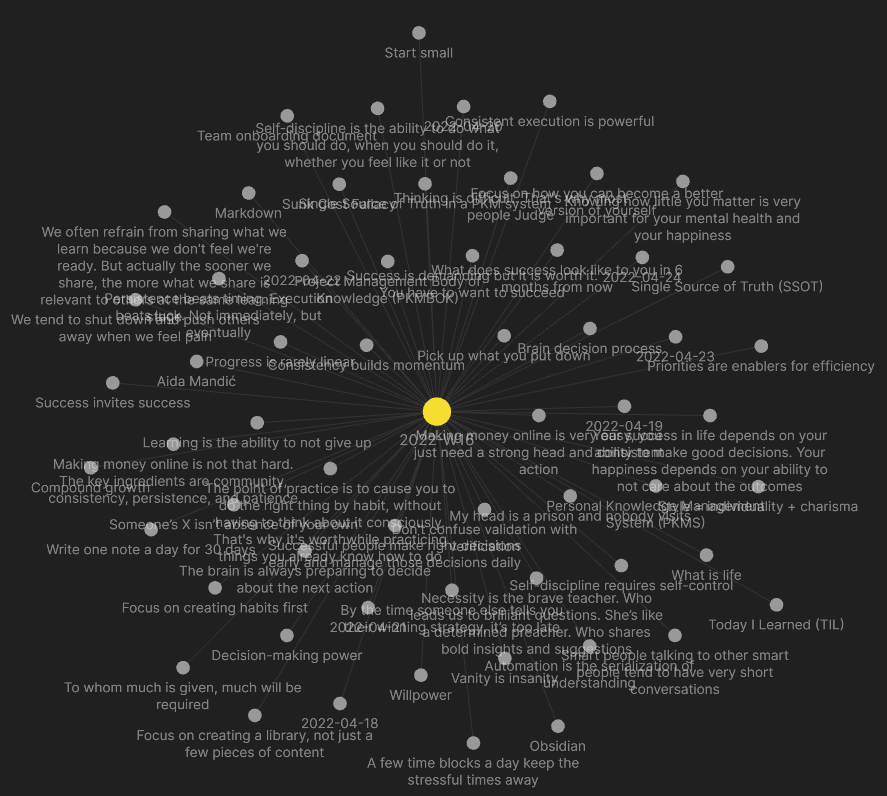 As I'm going through a crisis, I'm learning a lot less than usual. I've almost stopped reading, stopped writing my Dev Concepts series, etc.
Still, I explored a few interesting ideas this week:
Automation is the serialization of understanding
As content creators, it's much more interesting to create a cohesive library of content than to focus on virality and make a few bright sparkles
Progress is rarely linear. We sometimes feel we're not making any progress and all of a sudden we make huge leaps forward
Learning is the ability to not give up. It's something I'm doing my best to teach my son. If you quit too early, then you can't learn much
By the time we learn about the strategy others leverage, it's already too late
…
Markdown is everywhere. Learn what it is, why it is useful, as well as its pros and cons. Have you heard of CommonMark and GFM yet?
Having a single source of truth for all types of data in your PKM is key to a solid system.
This book is a tribute to all freedom fighters, fierce individuals, and unique souls. Those who dare to be different and go against the grain of society. Those who understand that inspiration is everywhere.
Necessity is the brave teacher. Who leads us to brilliant questions. She's like a determined preacher. Who shares bold insights and suggestions — Aida Mandić
Your success in life depends on your ability to make good decisions. Your happiness depends on your ability to not care about the outcomes — Naval Ravikant
IKEA hackers is the site for hacks and mods on all things IKEA. Browse thousands of ideas to transform IKEA to fit your home, work and life.
Your description for this link…
Tags work best when they're useful at the level of an individual note. Tips on how to approach tag sprawl and maintenance.
Juggl is a completely interactive, stylable and expandable graph view plugin for Obsidian. It is designed as an advanced 'local' graph view called the 'workspace', where you can juggle all your thoughts with ease. Wi…
Hey everyone! Many people use Obsidian as a
personal knowledge management (PKM)
system where you store cool snippets of knowledge. And…
A roundup of resources for using the markdown-based notetaking app Obsidian.md to write fiction and manage worldbuilding-related notes.
Angular 14 finally has strictly typed forms!
Another new release of Git is here! Take a look at some of our highlights on what's new in Git 2.36.
Today we're announcing the Cloudflare API Gateway. We're going to completely replace your existing gateway at a fraction of the cost.
Microsoft PowerToys is a set of utilities for customizing Windows. Utilities include ColorPicker, FancyZones, File Explorer Add-ons, Image Resizer, Keyboard Manager, PowerRename, PowerToys Run, a Shortcut Guide and more to come.
HTML, dynamically rendered in a city near you
About Sébastien
Hello everyone! I'm Sébastien Dubois. I'm an author, founder, and CTO. I write books and articles about software development & IT, personal knowledge management, personal organization, and productivity. I also craft lovely digital products 🚀

If you've enjoyed this article and want to read more like this, then become a subscriber, check out my Obsidian Starter Kit, the PKM Library and my collection of books about software development 🔥.

You can follow me on Twitter 🐦

If you want to discuss, then don't hesitate to join the Personal Knowledge Management community or the Software Crafters community.