newsletter
DeveloPassion's Newsletter - Community-first learning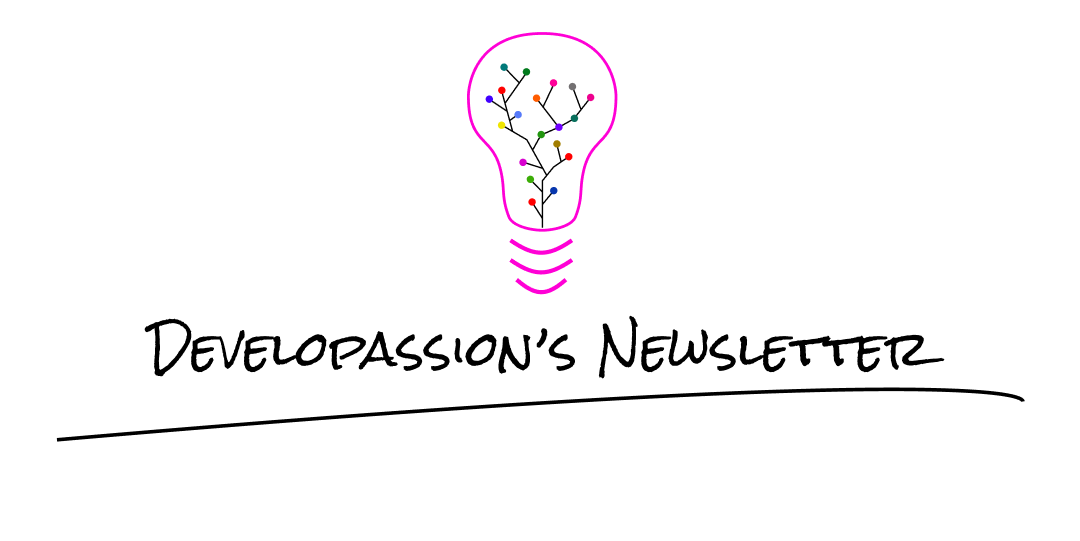 Hello everyone! I'm
Sébastien Dubois
, your host. You're receiving this email because you signed up for DeveloPassion's Newsletter or the
Dev Concepts
project. Thank you for being here with me ✨
If you enjoy this, please forward it to your friends 👍. If this email was forwarded to you, then don't forget
to subscribe
. Note that you can also
become a supporter
.
Welcome to the 39th edition
Another year, another month, another week, another newsletter! I hope that you all had a great end of the year 🤩
I'm personally happy that Christmas, my daughter's birthday and New year's eve and family visits are behind us. I need to breathe, rest, and start exercising again to get rid of the extra weight I've gained! 😂
This year will probably be tough as I'm almost back at square one with entrepreneurship. But I'm not letting go just yet!
Now that 2022 has begun, it's time to put our plans into motion. There's no time to waste. Of course, the start will be slow, as we probably all need to recover from the past week or so of over-eating, over-socializing (or not), and under-sleeping. Still, as usual, every step counts.
So let's goooooo! 🚀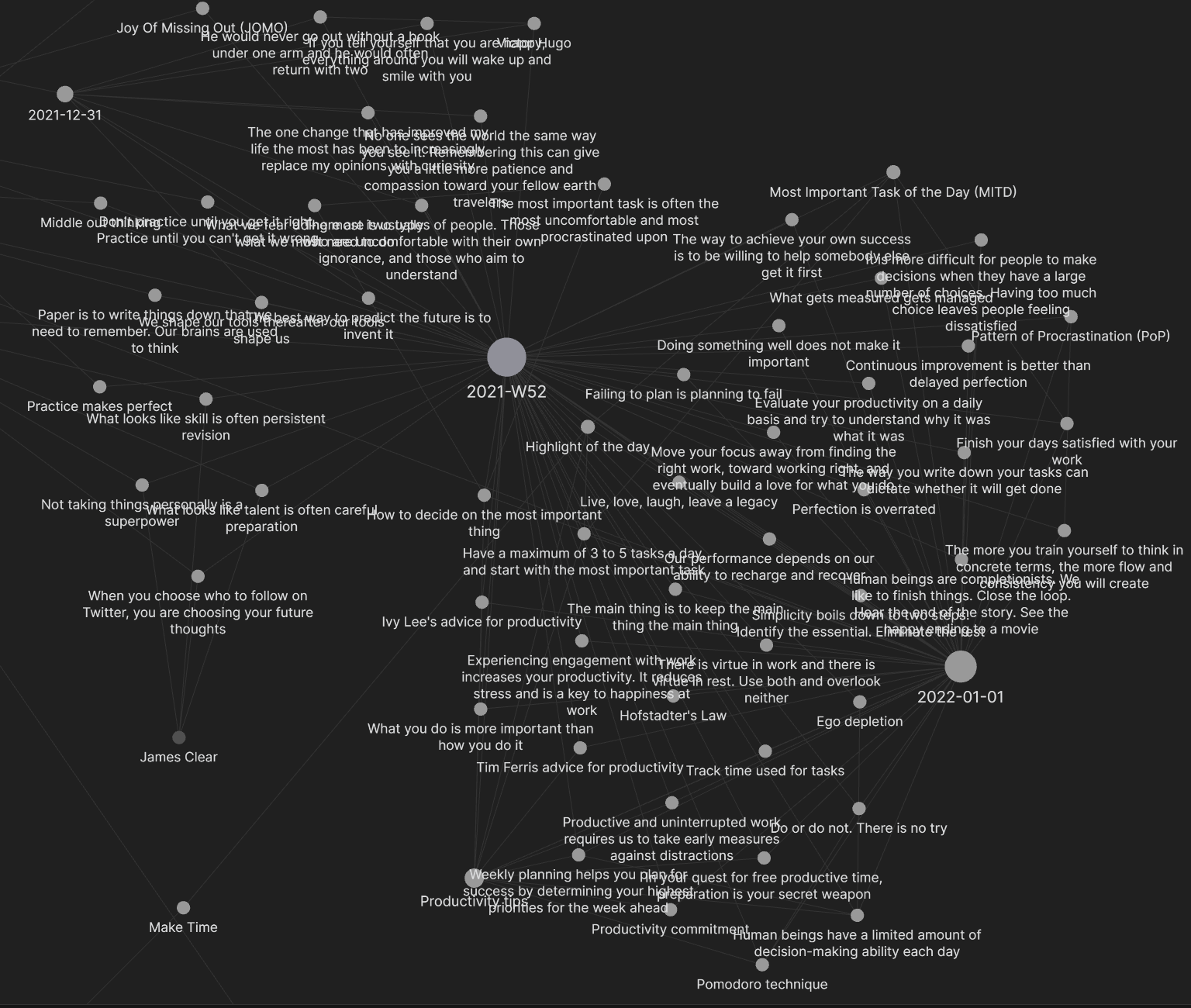 The first idea I want to share with you for 2022 is to try to
find joy in missing out on some things
. The whole world wants to us experience Fear of Missing Out (FOMO). But maybe it's time for us to feel good about missing out on some things instead. We need to go against the flow and focus on the
Joy of Missing Out (JOMO)
.
We're probably better off both emotionally and financially, avoiding falling for well-known marketing techniques. We all know these:
Promotions that bizarrely end in 10 minutes
Products that are always almost not in stock anymore
Campaigns that always end soon
Limited-time free shipping
People that are looking at the same product as we are
Content that expires
Special offers
…
Maybe it's actually great if we miss that 50% promotion. Maybe it's good if we don't pledge on that Kickstarter campaign ending tomorrow.
Let's try and go to the opposite end. Let's feel happy and proud about missing out. Let's focus less on consumerism and more on what really matters.
This week, one sentence that caught my attention was this one by James Clear: "When you choose who to follow on Twitter, you are choosing your future thoughts".
It resonated with me because I'm a huge believer in a "people-first" approach to learning. Whenever I decide to learn something new, my very first step is usually to find who knows and who cares about that topic. I try to identify the experts, the innovators, the most active/vocal community members. You could also call this a community-first approach to learning.
One thing is for sure:
the more you read about a topic, the more you'll be influenced, and the more it will change you
. Especially if you learn it from the people who care deeply about it. That's actually why
I want to read a ton of non-fiction books this year
. I expect those books to change me.
In the past, my go-to approach consisted in finding blogs covering the subject and following their RSS feeds. This immersed me in the topic and exposed me to both new and old ideas shared by those blogs.
But in fact, what matters isn't really the blogs themselves, but rather the people behind those.
The modern version of that approach is to use Twitter, where many active members of various communities (especially the tech one) are present and active. Nowadays, I still use RSS, but I now complement it with Twitter and Twitter lists. Whenever I'm interested in a new topic, I create a list on Twitter and start tagging the people I find that have an obvious interest.
This is a great way to learn about any topic because it exposes you to both key and innovative ideas from the people who truly care.
If you want to know what I care about (at least professionally), then take a look at my Twitter lists; you might find yourself wanting to learn more ;-)
Check out my lists to discover thousands of wonderful people!
Personal Knowledge Management Library 📖
It's a background effort that is going to last for a while, but I'm confident that this resource will slowly become key for the community.
I've made a few more sales, which made me really happy ❤️
I've decided to experiment with tiered pricing. From now on, the price will gradually go up as I sell more and more copies.
One problem that I have with
the current form of the product
(i.e., a Notion space) is that people need to duplicate it to access the content. While that works, it makes it difficult for people who already got it to update with my latest changes without losing information.
To fix that, I intend to start creating my own platform to share this content. Each user having access to it will always be able to access the up-to-date version and will be able to know exactly which resources they've already explored.
This week, it was complicated for André and me to find time to collaborate. Still, we did manage to make progress on some components of our interface:
More importantly, we've also almost completed the storyline's demo: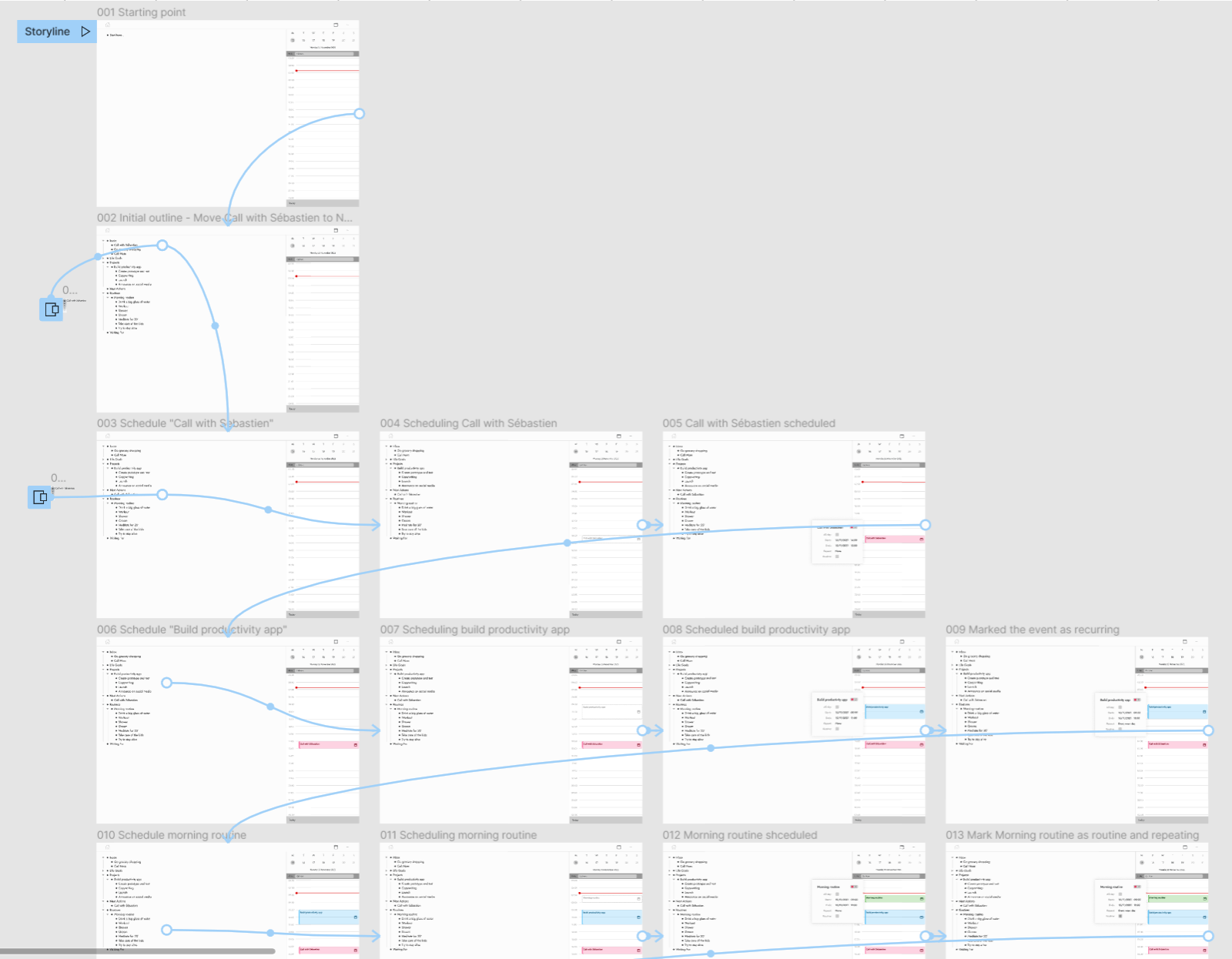 This storyline is the basis for the showcase video that we will produce right next. We have two main goals with:
Show and explain the most important features that we intend to build
Gather feedback before we actually start building!
No new articles this week!
Zelda Ocarina of Time is one of my favorite games of all time. This news made my day. I'm really curious to dive into the code behind the game!
This code could eventually lead to PC ports, new mods, and more.
Block Site allows you to block any website for any period of time. Remove distractions, block adult content, customize your browsing environment.
This week I want to share an awesome resource about books. I'm definitely going to read many of those in the coming months & years!
The Top 50 greatest fiction books of all time determined by 130 lists and articles from various critics, authors, and experts.
Scythe is one of the best strategy games out there. It's currently ranked #14 on the overall
BoardGameBeek
ladder, and #12 in the strategy section.
It's a game that combines many different mechanisms such as action drafting, grid movement, king of the hill, etc. And it does so wonderfully. There's no luck or randomness involved, so if you want, it's because you played better (or because others screwed up 😂).
Everything about this game is wonderful; the mechanics, the visuals, the universe, etc.
It takes a bit of time to understand the rules, but it's definitely worth the effort! Note that there's also a much simpler version that you can play with kids:
My Little Scythe
"Belief is the willingness to take irrevocable action" — William James
"The only way to find out if it will work out is to do it" — Simon Sinek
Here are a few links that I found interesting this week:
MIT News is dedicated to communicating to the media and the public the news and achievements of the students, faculty, staff and the greater MIT community.
January 2022 arrives as our methods of keeping time feel like they are breaking. Calendar pages turn, yet time feels lost. In this year of all years, what does it mean for a year to be new?
The best Stoic quotes from Marcus Aurelius, Epictetus, and other Stoic Philosophers. Explore the stoic learnings and meaning of the stoics and their quotes.
It's so exhausting trying to figure out where to start or head to while learning something, something… Tagged with react, webdev, javascript, 100daysofcode.
About Sébastien
Hello everyone! I'm Sébastien Dubois. I'm an author, founder, and CTO. I write books and articles about software development & IT, personal knowledge management, personal organization, and productivity. I also craft lovely digital products 🚀

If you've enjoyed this article and want to read more like this, then become a subscriber, check out my Obsidian Starter Kit, the PKM Library and my collection of books about software development 🔥.

You can follow me on Twitter 🐦

If you want to discuss, then don't hesitate to join the Personal Knowledge Management community or the Software Crafters community.