newsletter
DeveloPassion's Newsletter - Home sweet home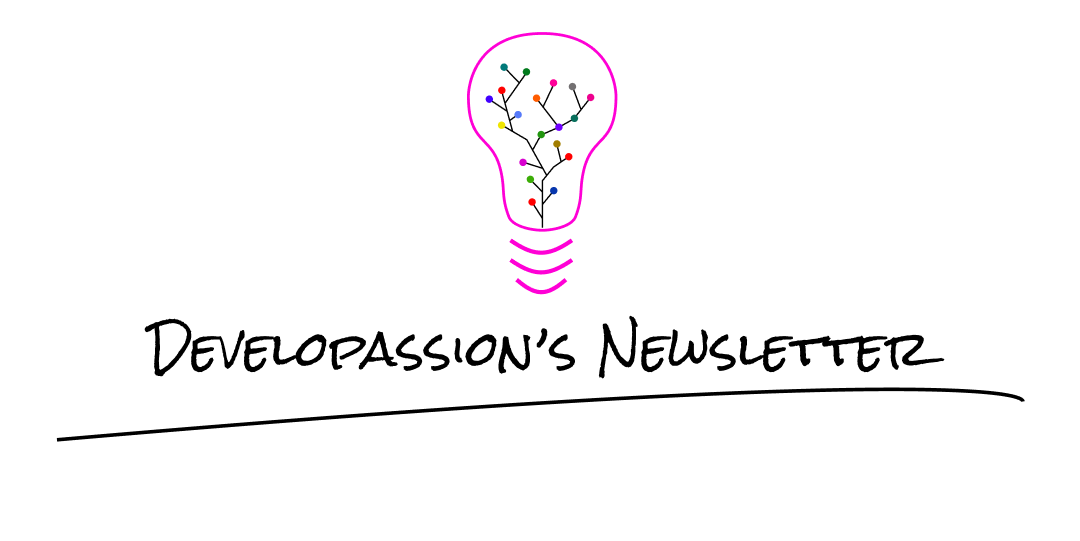 Hello everyone!
Welcome to the 25th edition of my newsletter.
This week has come and gone without me noticing. I've spent my days in a constant rush, taking care of the children, doing roundtrips between home and the hospital, and doing laundry 😂. But it's over now, Raphaël and his mother are home with us. Home sweet home! ✨
Now that Raphaël is back home with us, sleep is a thing of the past. For a couple of weeks (at best), I'm going to sleep intermittently 3-4 hours per night (at most). It's going to be tough, but it's not the first time around for me. I can't say that I'm used to it, but I've been there and survived, somehow 😂
One thing is for sure, sleep deprivation has
devastating
effects on the brain. Even after a single night, I already feel that my brain is going in slow motion, and I feel super irritable.
For me, the worst part of sleep deprivation is the feeling of
emptiness
it creates. When you finally manage to get up you have zero energy, ideas don't flow, and everything seems annoying.
I have to put my morning routine on hold for a while. If I try to set the alarm clock at 5:30 as usual, I just won't wake up. And even if I do, I won't have energy and won't be productive.
It's tough because my habits are well established, and I hate to lose momentum. But it's good to take a step away from the treadmill once in a while to fully taste precious moments in life. In the coming weeks, I'm mostly going to admire my son, read as much as I can, and maybe play the remastered version of Diablo 2 😄
Once again, I didn't publish anything new this week. This feels so frustrating! But don't worry, this won't last long.
This week I want to share a book that I'm really eager to read:
This book explores the vague feeling of guilt we sometimes feel when we're unproductive. In recent years. I'm curious about this one because I've actually trained myself to almost
resent
being unproductive. This also reminded me of an
old article by Scott Hanselman
Links of the week, ideas and tips
Here are a few links that I found interesting this week:
The benefits of reading are negated if you forget what you read. This article discusses a tested system to increase retention. Learn how to use active reading to remember more from books.
What is the best approach to learn new things?
Another interesting piece by Michael Simmons.
Generalists vs. Specialists School teaches us to think like specialists. But is it always the right choice?
An interesting software development analogy to "winner's games" and "loser's games" by
Tyler Hawkins
.
An introduction to the keyof operator in TypeScript by
Kevin Kreuzer
.
A curated collection of 40K book recommendations from HackerNews.
A 9-parts tutorial exploring how to create a blog with Next.js and Nrwl NX.
A cookbook with the best practices to working with Kubernetes.
An open source, Sentry API compatible error tracking platform.
A free and portable screen recorder tool that can export to gif & video
A free SVG wave generator to make unique SVG waves for your next web design.
2020 Free SVG icons for popular brands. Because we never have enough icons!
About Sébastien
Hello everyone! I'm Sébastien Dubois. I'm an author, founder, and CTO. I write books and articles about software development & IT, personal knowledge management, personal organization, and productivity. I also craft lovely digital products 🚀

If you've enjoyed this article and want to read more like this, then become a subscriber, check out my Obsidian Starter Kit, the PKM Library and my collection of books about software development 🔥.

You can follow me on Twitter 🐦

If you want to discuss, then don't hesitate to join the Personal Knowledge Management community or the Software Crafters community.