newsletter
DeveloPassion's Newsletter - Laser Focus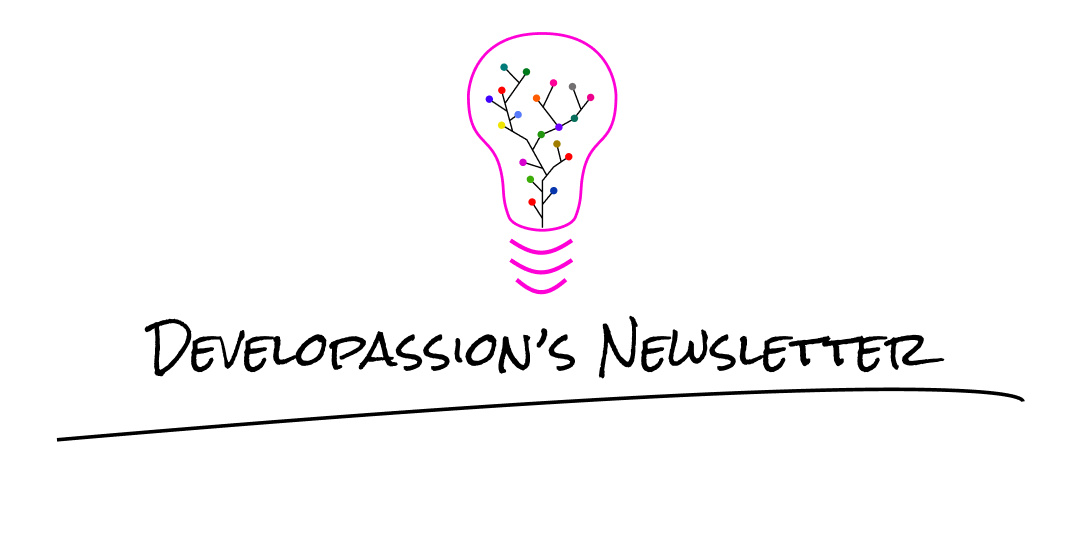 Hello everyone! I'm
Sébastien Dubois
, your host. You're receiving this email because you signed up for DeveloPassion's Newsletter. Thank you for being here with me ✨
If you enjoy this, please forward it to your friends 👍. If this email was forwarded to you, then don't forget
to subscribe
.
Welcome to the 32nd edition
Another week, another newsletter! I hope that you all had a great one 🤩
I've continued to dedicate most of my energy to Raphaël, my baby boy. He's almost two months old already! ✨ ❤️
Let's dive in!
Laser Focused productivity
This week
André
and I have continued exploring our product idea.
We want to combine an outliner (similar to tools such as Workflowy) with calendar integration and a focus mode.
Our goal is to promote and support the productivity technique of blocking time and applying a laser focus towards a specific goal.
The app will make it dead easy to define plans and routines, schedule those, and focus on execution. After all, we only ever have time for the things we actually prioritize.
We have started with the product vision and then created a
User Story Map
to uncover the major stories/features we envision. After that, we dived into UX design, information architecture, user personas, etc.
Next week we're going to continue exploring the user experience, and we will hopefully dive into UI design.
👉 Let me know if you're interested in giving the first alpha versions a try once we're ready! 🙏
The session recordings are also publicly available:
What is the (best) career path of a software engineer? Understand the various options and how to plan your career in the software industry.
I've also posted an article to properly introduce the Personal Knowledge Management (PKM) community, a group of lifelong learners:
Discover the Personal Knowledge Management (PKM) community, a community for lifelong learners.
Use the largest and most powerful French model openly available to generate amazing copywriting! Like GPT-3, mais focalisé sur la langue française
A small tool I've stumbled upon this week. Since my teenage years, I've always been a big fan of ASCII art. Back in the day, NFO files were full of wonderful illustrations… (if you're old enough to remember 😂)
The tip of the week is dedicated to my fellow freelancers. Go increase your rates now!
Patrick McKenzie shares how he went from $100/hr to $30,000 a week and what makes such rates possible.
This week I want to share the next book on my reading list:
Ego really is our strongest opponent. Why not learn how to turn it into an ally?
I haven't read anything written by Ryan Holiday so far, but I'm really eager to dive into this one. I grew up being told I'd never get anywhere in life. So I set out to prove those people wrong. Turns out I'm still fighting with my ego from time to time. It sure takes time to know yourself.
"Check your ego at the door. The ego can be the great success inhibitor. It can kill opportunities, and it can kill success." (Dwayne Johnson)
Here are a few links that I found interesting this week:
As software developers, we're always learning new things; it's practically the whole gig! If we can learn to quickly pick up new languages/frameworks/tools, we'll become so much more effective at our job. It's sort of a superpower.
Why is Rust being used to replace parts of the JavaScript web ecosystem like minification (Terser), transpilation (Babel), formatting (Prettier), bundling (webpack), linting (ESLint), and more?
I've written tens of thousands of lines of code with Remix and I want to tell you why I love using this framework.
Cool new features in Firefox!
20 Ways to Switch Off From Work by @martineellis
Excalidraw-style slide decks. Excalideck is an app for authoring slide decks that look hand-drawn.
About Sébastien
Hello everyone! I'm Sébastien Dubois. I'm an author, founder, and CTO. I write books and articles about software development & IT, personal knowledge management, personal organization, and productivity. I also craft lovely digital products 🚀

If you've enjoyed this article and want to read more like this, then become a subscriber, check out my Obsidian Starter Kit, the PKM Library and my collection of books about software development 🔥.

You can follow me on Twitter 🐦

If you want to discuss, then don't hesitate to join the Personal Knowledge Management community or the Software Crafters community.