newsletter
DeveloPassion's Newsletter - Month in review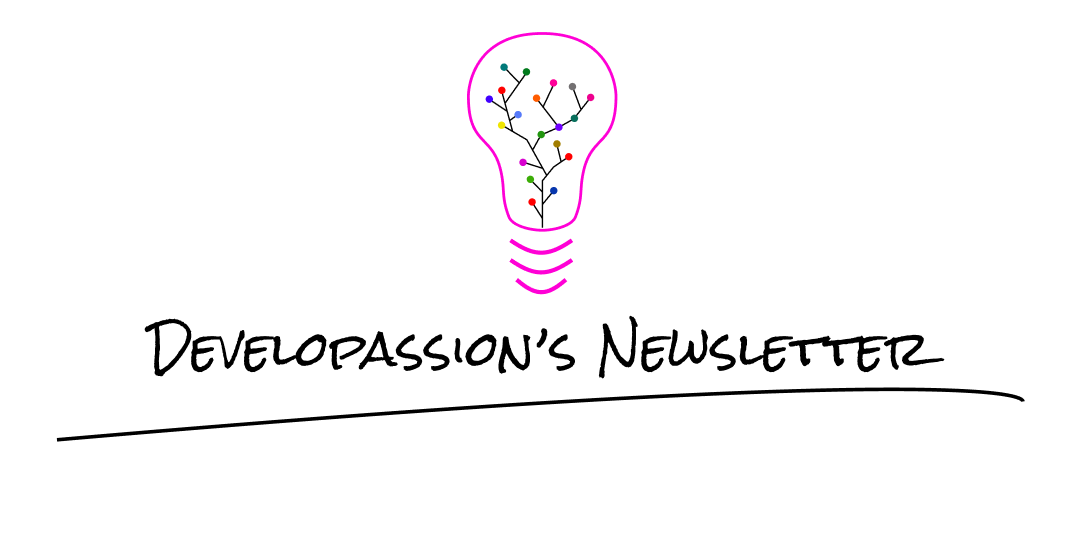 Welcome to the 91st edition
Another week, another newsletter! I hope that you all had a great one 🤩
I was super busy this week. My son Raphaël was with me the whole week (no kindergarten!), and it was quite a challenge to get anything done 😂
Still, I did manage to make solid progress toward my goals!
Alright, let's goooooo 🚀
Month in review and bootstrapping challenges
This month was quiet. Quiet because I was busy with life, and life was busy with me 😂
My most important "woo" of the month is the fact that I've
finally
published a YouTube video. I'm not proud of the result because I know about all the mistakes I've made and still have a ton to learn, but I'm proud that I did publish it.
The first step is often the hardest, and I certainly faced a steep slope.
My initial goal was to start publishing videos in September, but I pushed it back a few times. My perfectionist side certainly didn't help, as I've ended up spending a ton more time than I should have researching/buying/configuring audio/video gear and lights.
This preparation phase was actually necessary for me to get past the "shame" of publishing something I considered too "amateur". In reality, it was a form of procrastination that I need to fight against. I certainly could have recorded my first video using my phone and hit the publish button much sooner.
But what I did, even though much slower also let me learn a lot more about the whole video production process. I've learned the basics of video editing with Adobe Premiere, learned a ton about audio/video recording, how to properly light the room, etc
There's still a lot more to learn, but I now know enough to repeat the process and waste much less time for the next videos. What I love about doing this is that I get to learn a ton of new things, and it's always giving me so much energy!
This month, I've lost a lot of momentum on Twitter as I've been inactive. It annoys me, but I had to make choices between my personal life and work. And sometimes it's really important to prioritize life over work :)
The
Obsidian Starter Kit
is still doing really well. In total, I've now sold 275 copies, generating ~$4.8K. Quite cool for a small experiment! In the coming month, my goal is to produce video content to enhance the kit with videos covering all aspects and providing more "hands-on" examples. My plan is to make the videos an optional buy for those interested in getting more and wasting even less time to get started with note-taking, PKM, and Obsidian.
I've started cross-posting my newsletter
on LinkedIn
and was quite surprised to see that I already have ~240 subscribers over there! I think that LinkedIn is valuable for reach.
This month, I've maintained the same revenue as the last few months: ~$800, all income sources put together (apart from my revenue as an employee and freelancer). I'm glad it stays stable for such a long period of time, but I want to add more income sources to improve the status quo. I'm also amazed that I still make ~$100 per month through Medium's partner program, even though I've published so
few articles
recently.
No new article this week.
"Wise people know it's impossible to be perfect. Best is to be less imperfect"
"Notes don't matter. Information and knowledge do"
"If you want momentum, you'll have to create it yourself, right now, by getting up and getting started" — Ryan Holiday
Drawing on four decades of scientific research on human motivation, Pink exposes the mismatch between what science knows and what business does—and how that affects every aspect of life. He examines the three elements of true motivation—autonomy, mastery, and purpose
Photopea Online Photo Editor lets you edit photos, apply effects, filters, add text, crop or resize pictures. Do Online Photo Editing in your browser for free!
Playground AI is a free-to-use online AI image creator. Use it to create art, social media posts, presentations, posters, videos, logos and more.
Thinking and learning links of the week
26 key takeaways from a former lead FBI hostage negotiator. "Summary of Chris Voss's Masterclass on The Art of Negotiation" is published by Masterclass Notes.
Fuel your brain with the web's most valuable articles. Carefully curated tools for productivity, wisdom, and smarter living - direct to your inbox daily.
We fall victim to cognitive biases more than we realize. These comics illustrate examples of biases that we encounter in our daily lives.
Playfulness and tickling aren't always considered "serious" subjects, but a new study shows how they can address key questions about the brain.
Every day we pick 5 links from around the web that make you smarter, tailored to your interests. Loved by 100k+ curious minds.
Next.js 13 introduces layouts, React Server Components, and streaming in the app directory, as well as Turbopack, an improved image component, and the brand new font component.
Worker Runtimes are the new standard for writing HTTP servers in JavaScript.
In React, we don't update the DOM directly, we tell React what we want the DOM to look like, and React tackles the rest. But how exactly does it do this? In this tutorial, we'll unpack exactly when and why React re-renders, and how we can use this information to optimize the performance of our React apps.
What's the deal with these two hooks?! Lots of devs find them confusing, for a whole host of reasons. In this tutorial, we'll dig deep and understand what they do, why they're useful, and how to get the most out of them.
Seed your development database with real data ⚡️. Contribute to Qovery/Replibyte development by creating an account on GitHub.
Indie Hacking and bootstrapping
I Cracked The Creator Content Funnel To Sell My Products On Auto-Pilot. How I went from constant product launches to an evergreen funnel that brings in $2k a month as a part-time income.
In today's issue, I'm going to share 4 side hustle ideas that you can build to earn $100k or more. There has never been a more critical time to build up your personal brand, and head to the internet to make some extra income. But what is the best side hustle for you? Let's look at 4 of my favorites.
Charlie Chang started several of his passive income streams — which now gross an average of $114,000 per month — with $0 down. He shares four passive income businesses you can start for "less than $100."
Josh Ellwood quit his engineering job in 2021 to pursue his side hustles full-time. That year, he made $189,000 through his seven streams of income. Now, he works just three and a half days a week. Here's his best advice.
Like millions of Americans, Shannon Smith lost her job during the pandemic. Now, thanks to her social media and marketing skills, she makes $8,000 a month in passive income — and works just two hours a day. Here's her best advice.
About Sébastien
Hello everyone! I'm Sébastien Dubois. I'm an author, founder, and CTO. I write books and articles about software development & IT, personal knowledge management, personal organization, and productivity. I also craft lovely digital products 🚀

If you've enjoyed this article and want to read more like this, then become a subscriber, check out my Obsidian Starter Kit, the PKM Library and my collection of books about software development 🔥.

You can follow me on Twitter 🐦

If you want to discuss, then don't hesitate to join the Personal Knowledge Management community or the Software Crafters community.