Welcome to the 66th edition
Another week, another newsletter! I hope that you all had a great one 🤩
Welcome to all the new readers ❤️
I sold 44 copies in the last 30 days: $700. I also dared writing about the project on the Obsidian subreddit. I wasn't too confident because I didn't want to get banned (I really enjoy discovering the posts over there). Luckily I wasn't slapped because of it, and it apparently caught the attention of
Eleanor Konik
, the community manager behind the
Obsidian Roundup
newsletter. She was kind enough to mention the Obsidian Starter Kit in the
latest edition
.
Next to that, I sold 14 copies of the PKM Library during the last 30 days, bringing in $275.
The PKM subreddit slowly approaches the 300 members mark. It's not a numbers game, but compound growth does help with the sales, in addition to increasing the number of cool conversations I'm having ❤️
I thought about a new tiny experiment to launch: an Obsidian plugin to easily publish notes to Ghost and/or Medium. I've written a
short design document
, and will probably try to build that during a weekend… I will probably not monetize that one, but it will surely help me publish more easily :)
I've made ~$3.5K so far on Medium. While I was writing my tech articles back in 2020 I remember feeling bad because my articles were just being "ignored". I almost gave up, thinking that it wasn't worth all the effort. In retrospect, it just took some time for compound growth to kick in.
There's an important delay/distance between the moment when you create something and the moment when the effects are really obvious.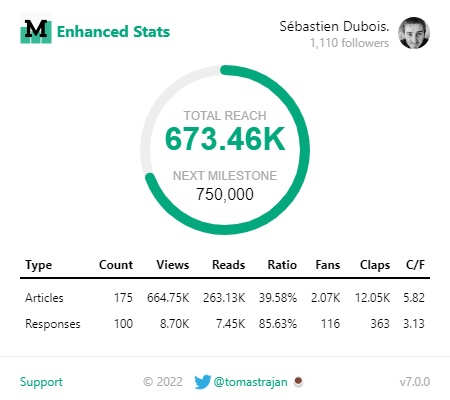 I've almost reached 700K views. So, those "invisible" articles ended up getting the attention they deserved after all.
Things I've learned this week
Here are some ideas I found interesting:
Linus' law
Aldous Huxley's writing about humans and islands, enlightenment, life, and ego
Concept handles
Shared responsibility requires complete accountability
Documents are prisons for ideas
How to go from collector to creator
LATCH
Five Hat Racks
If there's one you want to know more about, tell me. I'll publish it 🎉
No new articles this week
"Learn the rules like a pro, so you can break them like an artist"
"Sometimes magic is just someone spending more time on something than anyone else might reasonably expect"
Discover amazing ML apps made by the community
Thinking and learning links of the week
🌠 Guides to Synthesis & File Explorer Keyboard Navigation
Attention New Users
: This is a great way to learn what's happening in the…
This week, in continuing our note-taking method casts, ProductivityCast dives into personal knowledge management with Zettelkasten.
Rename pasted images and all the other attchments added to the vault - GitHub - reorx/obsidian-paste-image-rename: Rename pasted images and all the other attchments added to the vault
Get the course: How to Help: Peer-to-Peer Support Certificationhttps://courses.therapyinanutshell.com/practical-psychotherapy-skills?utm_campaign=Jul%202,%20…
TL;DR: We released a new beta version of Lerna and it happens that it is now 5.3 times faster than Turbo 👀…
Are you familiar with container images, Docker and Kubernetes? Have you heard Docker is dead? Then this technical blog will help clear up rumors.
Let's get real, we all want an awesome looking terminal. In this video we are going to take the dull and boring terminal that comes as default on your comput…
The browser extension framework. Contribute to PlasmoHQ/plasmo development by creating an account on GitHub.
The goal was simple: to define the main colors so that their relative luminances, as defined by WCAG, are close to each other. This way, when designers swap out one status color for another, they are…
About Sébastien
Hello everyone! I'm Sébastien Dubois. I'm an author, founder, and CTO. I write books and articles about software development & IT, personal knowledge management, personal organization, and productivity. I also craft lovely digital products 🚀

If you've enjoyed this article and want to read more like this, then become a subscriber, check out my Obsidian Starter Kit, the PKM Library and my collection of books about software development 🔥.

You can follow me on Twitter 🐦

If you want to discuss, then don't hesitate to join the Personal Knowledge Management community or the Software Crafters community.