If you enjoy this, please forward it to your friends 🙏. If this email was forwarded to you, then don't forget
to subscribe
. Note that you can also
become a supporter
and support my work ❤️.
Welcome to the 49th edition
Another week, another newsletter! I hope that you all had a great one 🤩
I've continued reading Josh Kaufman's bestseller:
The Personal MBA
. I'm not very far yet (~10%), but the content is great. There's a lot of signal and very little noise. I love it. Josh clearly describes the core elements of all businesses, the different ways to create/deliver value. I'm eager to continue reading this one.
I had fun re-discovering Season 5 of The Simpsons with the kids. We now try to watch an episode per day; tons of fun! When I was younger, I've watched the first seasons
at least
a hundred times. Matthieu and Amandine are always surprised when I "spoil" the upcoming dialogues 😂
I'm a huge fan of Matt Groening's work and have watched most episodes of Futurama and Disenchantment. But I've actually never watched any episodes of the Simpsons past season 10. This means that I've got more than 2/3 of the episodes to watch. TBH I have mixed feelings about that. On one hand, it's awesome because there's so much I have yet to discover. On the other, I wonder how the show has evolved over the years. All I hope is that most of the voices will remain the same :)
Alright, let's goooooo! 🚀
Welcome to the lab!
As you know, I've been thinking about
small and riskless bets
for quite a while now. Those are experiments. Some succeed, some fail, but there are
always
lessons to be learned.
In this new section of the newsletter, I'll discuss the experiments I'm conducting and the ones I'm considering. Note that I'm eager to try new things, so if you have ideas, by all means, get in touch with me! A good lab needs a team of (mad) scientists! ❤️
Let me tell you about my next experiment!
Each week I spend countless hours capturing knowledge and ideas about various topics (e.g., PKM, learning, writing, business, entrepreneurship, product, software development, etc), inspiring quotes, and random facts that piqued my interest.
Here's an overview of what I've captured this week: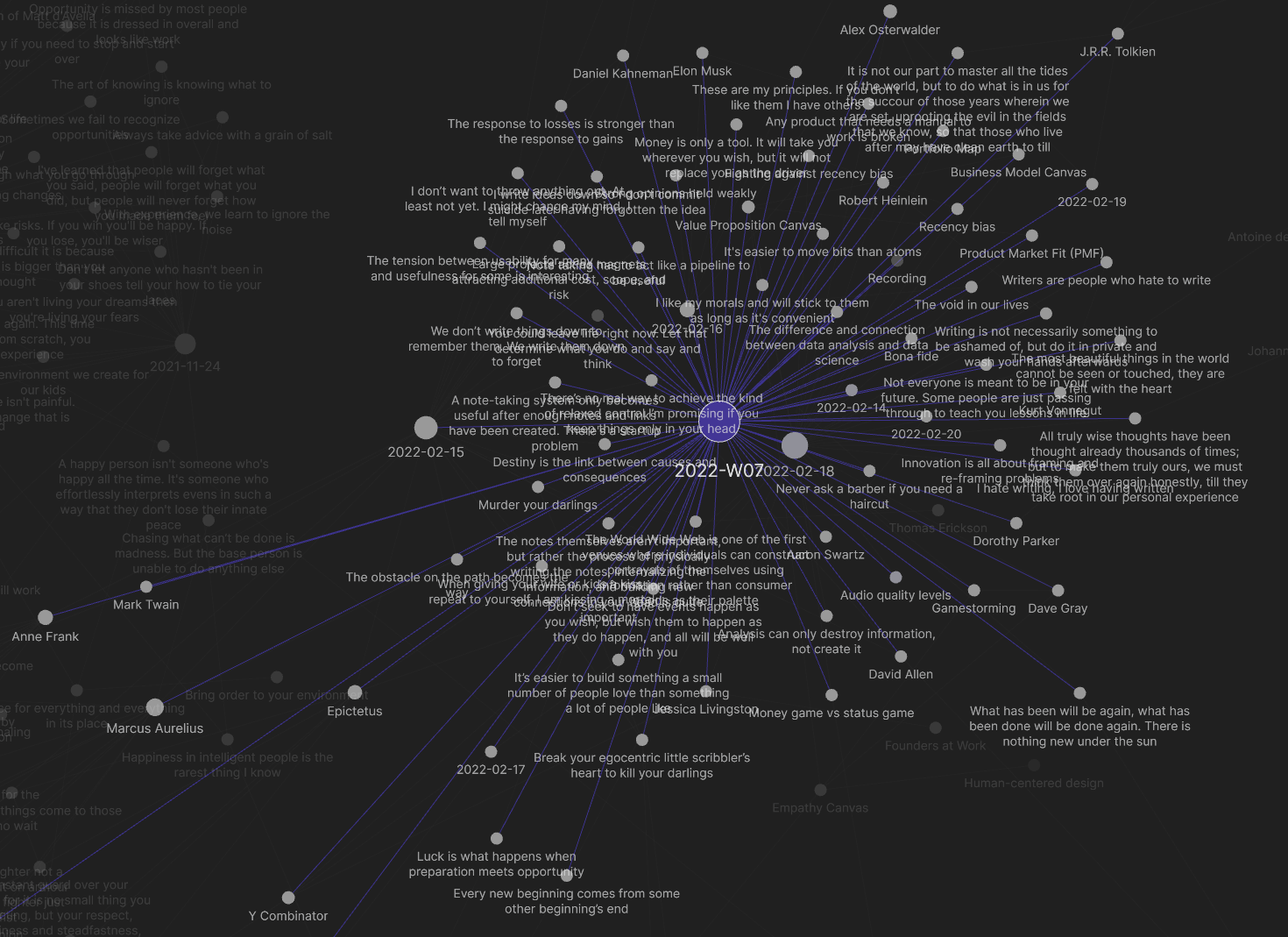 I'm having tons of fun capturing ideas, but I don't like the fact that my digital garden is not accessible to anyone else but me.
I try to capture high-signal information. Here's an example from last week: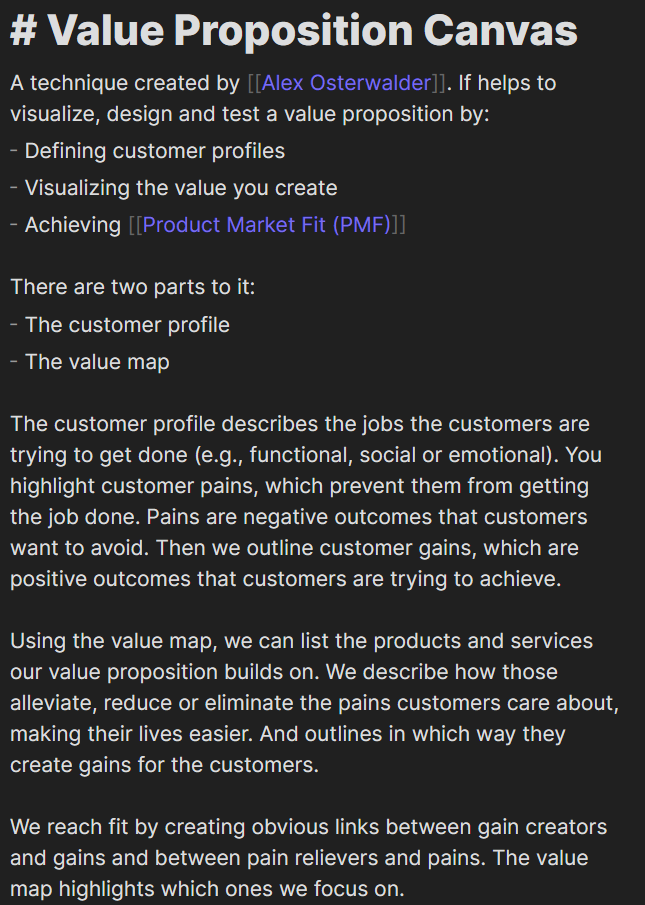 I would like my knowledge base to be like the
East gardens of the Imperial Palace
in Japan and have a limited number of visitors at any given time, ensuring a great experience for each and every one of them. My idea is to create a
subscription model
with a
limited number of tokens
(e.g., 20-25). People who subscribe will get
access to my knowledge base
as well as
access to a private community
with myself and other subscribers.
I see this experiment as a way to share ideas on a
much deeper
level with others, versus me publishing very specific blog posts. Sharing my notes means sharing what I capture and find "most" valuable, which is a very different, but IMHO very interesting value proposition.
Subscribers will get to see how I take my notes, how I improve my process week over week, things I discover, how I tag content, etc. I'll also be available to answer any questions they might have about my content or my approach.
It's a win-win proposition: I get rewarded for the efforts I put into my knowledge base, which motivates me to spend more time on it, and subscribers get access to high signal information, an insider view of my process, etc.
If at least 10 persons reply with a "YES", then I'll prepare and launch this experiment in the coming weeks.
Personal Knowledge Management News
The
PKM Journal
is growing steadily. This past week, people have spent 3x more time reading our articles. And it feels great because we're sharing ideas that can change lives for the better ❤️
The PKM community on Slack approaches 100 members. That will be an important milestone, but I don't want this community to include a gazillion members that don't know about each other. Many members are also inactive, which is far from great. I need to learn more about ways to approach this better. I'm thinking about trying to slow things down and maybe making the community invite-only.
I've added a ton of new resources to the
PKM Library
this week. The library now lists 200+ tools (!). I've also added a number of Podcasts that people should find interesting and many new YouTube Channels. The project has been featured in the newsletter of
Curtis McHale
, which was cool! Last but not least, I sold a few more copies, which always feels great 🎉
I've also spent (too) many hours thinking about a name for my upcoming PKM product. Choosing names is really
really
hard
. And when good names come to mind, they're either unavailable or trademarked… 😂
This week I've published an article in the PKM Journal:
How to capture thoughts, ideas, and knowledge to retain more from the books you read.
In this article, I've described my current process for taking book notes and turning those notes into smart ones as part of my PKM system.
Digital twins are already used in manufacturing, industry, and aerospace. Now a European project called Neurotwin wants to make virtual copies of brains.
The LOOP is a cooperative game for 1-4 players. Everyone collaborates to try and stop Dr. Faux through time.
Each round, Dr. Faux goes to another epoch and creates clones of himself. Players need to eliminate those clones to keep the situation manageable and prevent Dr. Faux from destroying the universe.
To win the game, you'll have to think about what to do and in which order. Small mistakes can quickly lead to game over, while smart moves can create awesome combos.
The game has excellent replayability with different game modes, randomization, etc.
"When giving your wife or kids a kiss, repeat to yourself, I am kissing a mortal" — Epictetus
"All truly wise thoughts have been thought already thousands of times; but to make them truly ours, we must think them over again honestly, till they take root in our personal experience" — Johann Wolfgang von Goethe
PKM & Learning Links of the week
I long ago stopped reading books on note-taking. They were always too vague and boring, full of platitudes that had little to do with the world outside
Issue 7 of Curtis McHale's PKM newsletter
Tools For Thought Roundup - We're a community for folks fascinated by the concept of using tools to solve problems, think better and organize our lives.
T
Next.js 12.1 introduces on-demand ISR, support for styled-components and Relay, zero-config Jest support, and more!
Tips to help improve the shape of an older Angular codebase.
List of ngrok alternatives and other ngrok-like tunneling software and services. Focus on self-hosting.
Tips, tricks and tutorials on the web's most beautiful language.
Not new but still relevant.
About Sébastien
Hello everyone! I'm Sébastien Dubois. I'm an author, founder, and CTO. I write books and articles about software development & IT, personal knowledge management, personal organization, and productivity. I also craft lovely digital products 🚀

If you've enjoyed this article and want to read more like this, then become a subscriber, check out my Obsidian Starter Kit, the PKM Library and my collection of books about software development 🔥.

You can follow me on Twitter 🐦

If you want to discuss, then don't hesitate to join the Personal Knowledge Management community or the Software Crafters community.