newsletter
DeveloPassion's Newsletter - Unbundling PKM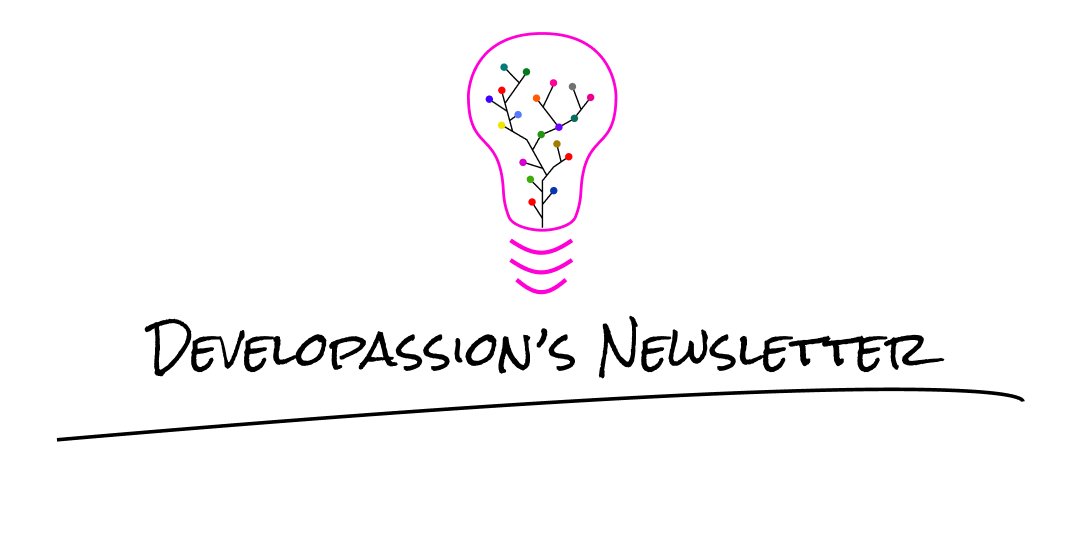 If you enjoy this, please forward it to your friends 🙏. If this email was forwarded to you, then don't forget
to subscribe
.
Welcome to the 52nd edition
Another week, another newsletter! I hope that you all had a great one 🤩
This edition marks an important milestone. 52 editions;
one year's worth of newsletters
.
Alright, let's goooooo! 🚀
In the beginning, I didn't want to put needless pressure on my shoulders, so I only published an edition or so per month.
The format of the newsletter has slowly evolved to let me share ideas about various initiatives and topics I care about. I started writing about the books that influence me, the board games I love, the quotes that make me vibrate, etc.
Personal Knowledge Management News
I've worked hard on the
PKM Library
this week. I've added new tools, YouTube channels, videos, blogs, articles, and
a ton
of Twitter hashtags.
I've also turned the different resource lists into a real database with cross-references. This brings a lot more value, as it is now possible to better filter the information and to explore the content by topic, tool, etc.
The library now includes: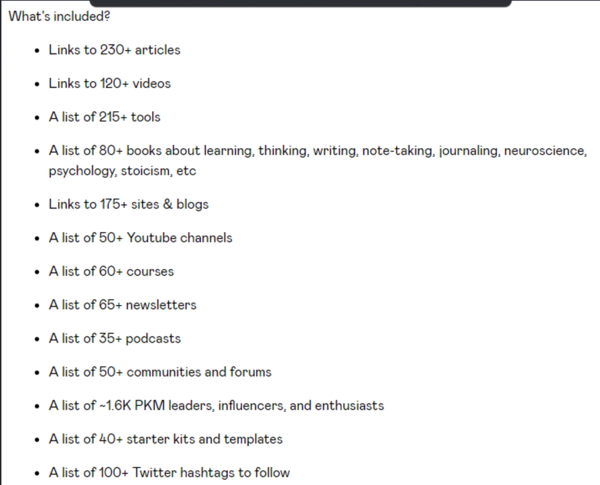 Numbers don't matter all that much, but as far as I know, this is the
largest
collection of curated resources about PKM. And I'm just getting ;-)
By the way, the price has just gone up from €15 to €25. As you know, I've decided to use tiered pricing for this project, as a way to determine the best price point. Once sales drop flat, I'll know I went too far up (it hasn't happened yet) 😂
Aside from that, the
PKM Journal
keeps growing. Our team has published a few more articles, and I'm about to resume writing as well. The
PKM community on Reddit
is also growing steadily.
focusd: Zen productivity news
The War in Ukraine has taken my attention and focus far away from focusd (and other projects) for the past weeks. But André and I will resume working on it in a few days.
I've realized I'm procrastinating on this project. My thoughts are elsewhere, but beyond that, I know that I'm a bit scared of getting started. It's all right though, there's no rush ;-)
One concept that Josh Kaufman explains in
The Personal MBA
is
bundling
vs
unbundling
products. When considering an existing market and the products in it, one can think about two approaches to provide value in the space: unbundling existing offerings into distinct products or bundling different products into a single one. Both approaches have merits.
I like how unbundling can help introduce more choices for customers and more options for power users. But unbundling also introduces a number of challenges.
Here are a few:
User Experience across unbundled products is generally anything but harmonized (unless a single vendor unbundles their own products)
Integration is a real challenge. If a product does not integrate with another, then a lot of plumbing is required to migrate data, synchronize systems, etc. There are also important risks to consider. If a vendor decides to remove support for certain integrations or APIs, then workflows can break. This also implies the need for maintaining the system as products evolve
From an administrative point of view, unbundling generally means more payments to handle, more invoices, etc
Data becomes scattered (or event duplicated) across more systems and vendors, which has implications for data security/privacy
It's really difficult to exploit the value at the intersection of different tools. For instance, if one tool is used to capture interesting links and another to store the extracted information, then it's not easy to link everything together
I'm just thinking out loud here, but given the above points (and others that elude me right now), I feel like unbundling is definitely not the greatest approach for Personal Knowledge Management.
In general, and for my PKM system in particular, the fewer tools I need to use, the better. Fewer tools mean less mental overhead, less complexity, fewer data migrations, fewer integration issues, more consistency, better user experience, and better data security/privacy.
That's one of the reasons for which I want to take the bundling approach with my PKM product. It will be a place for knowledge, ideas, and inspiration. I want it to be the solution that helps me:
Discover and capture everything I find interesting (ideas, audio recordings, bookmarks, notes, thoughts, highlights, etc)
Triage and prioritize what to consume more thoughtfully
Consume and learn by reviewing/exploring what I've captured
Think by taking notes, linking ideas, thoughts, knowledge, and content together
Share thoughts, ideas, knowledge, and essays with the world without having to duplicate anything
Expose my PKM through APIs so that integrations, extensions, and automation can be built around it
I can do all of this already. But to do so, I'm forced to use too many tools and to accept various tradeoffs. Also, I'm losing information and knowledge at the seams. Importantly, while using different tools does allow me to achieve my goals and provides me with a lot of control, it forces me to define my process separately. It forces me to make many impactful design decisions and adds a lot of mental overhead.
The good news is that since I'm suffering from the situation, I know exactly how to reduce the pain and make something valuable for myself and others.
No new articles this week.
Finally, Microsoft has proposed to integrate a type syntax in ECMAScript. This is wonderful news, and I hope this will quickly move forward.
An interesting tool to explore current and upcoming trends.
In this book, Nassim Nicholas Taleb explores luck, uncertainty, probability, human error, risk, and decision making. It's a book about the world we live in; a chaotic and unpredictable mess.
The board game of the week is
Mini Rogue
a teeny tiny game for 1-2 players. In this game, players explore a dungeon, trying to survive long enough to reach and beat the final boss. Each level of the dungeon is composed of 9 cards. You'll stumble upon treasures, weapons, monsters, sanctuaries, etc. To resolve combats and try to avoid traps, you'll roll the player and dungeon dice, hoping for the best. Along the way, you'll try to amass gold, find armor, gain experience, and find enough food to avoid starvation.
"War is a place where young people who don't know each other and don't hate each other kill each other, by the decision of old people who know each other and hate each other, but don't kill each other" — Erich Harman
Information consumption peaks. Social media, newsletters, podcasts… Our minds are filled with a fire hose, yet many of us feel empty.
Personal Knowledge Management Systems are essential to manage information and learn. But what are the options? And how do you choose one?
TurboRepo is a big deal for the JS community because it addresses the monorepo problem head on, bringing 85% faster build speeds and great architecture/docs/marketing. Tagged with devtools, summaries, javascript.
Turborepo is a high-performance build system for JavaScript and TypeScript codebases. This demo shows how to set up your first Turborepo, intelligently cache…
This podcast will inspire you to build excellent user experiences for the web. Sometimes with Remix, the modern web framework.
No matter how advanced your tooling is, your documentation efforts will fail if you don't foster a culture of documentation.
Hey, Today we'll be talking about Airbnb's Architecture
About Sébastien
Hello everyone! I'm Sébastien Dubois. I'm an author, founder, and CTO. I write books and articles about software development & IT, personal knowledge management, personal organization, and productivity. I also craft lovely digital products 🚀

If you've enjoyed this article and want to read more like this, then become a subscriber, check out my Obsidian Starter Kit, the PKM Library and my collection of books about software development 🔥.

You can follow me on Twitter 🐦

If you want to discuss, then don't hesitate to join the Personal Knowledge Management community or the Software Crafters community.