newsletter
DeveloPassion's Newsletter - What is life anyway?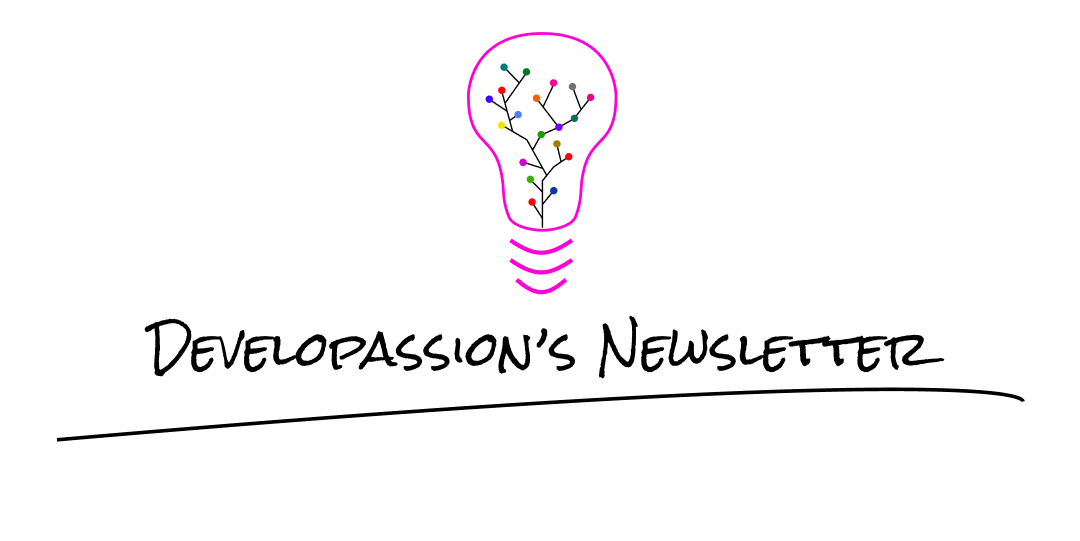 Welcome to the 73rd edition
Another week, another newsletter! I hope that you all had a great one 🤩
This will be a short edition as I'm writing this piece at 3 AM. This is definitely not the best time to be creative 😂
Reality has just sunk in. My glass is half full, but the house is half empty. Everything feels
weird
. This is quite violent and difficult for me to write about, but there's no shame, just humanity, honesty, and vulnerability.
You might not know this, but I care
a lot
about bringing my whole self wherever I go (even if I don't always manage to). This virtual stage is no exception. Right now, you and I share a very private space. You're together with me somewhere deep down in my brain, where my thoughts emerge and come out (almost) unfiltered. I hope you don't mind me bringing you here ;-)
These are challenging days. But they're just part of life. You've got to wonder…
What is life anyway
? To me, life is the sum of our experiences, good and bad ones, highs and lows. One day you discover that you're going to become a parent, and you feel ecstatic. Another you see the face of your newborn for the first time and experience the most intense happiness ever. Yet another, you feel happy because a risk you took was worth it. Yet another, you feel sad and depressed because the stars just won't align in your favor. Yet another, you go through horrendous pain as you lose loved ones and feel nostalgic. Yet another, you feel proud because your children evolve. Joy, pain, sorrow, fear, happiness, sadness, anger, rage, passion, surprise, disgust, hopelessness, enjoyment, disappointment, peace, relief, love, satisfaction, stress, etc. The number of life experiences we have the opportunity to explore is
endless
. It's just mind-blowing.
Recent days were very sad for me, but those were just bad days, not a bad life! Better ones will come!
The lab is closed this week!
Ideas I've explored this week
Among those, here are a few cool ideas I've explored:
Many interesting quotes by Honoré de Balzac
Work-life fit
Friendship paradox
The idea that no information is superior to any other and that the power lies in the connections
Feynman's advice
Foucault's Pendulum
Relentless curiosity
The fact that simple and wrong beats complicated and right
The idea that the constraints we impose to ourselves are in our imagination and are rooted in fear
The idea that observed talent is the tip of the iceberg, the result of consistent hard work
The concept of attention momentum and its dynamics
How company culture impacts the way work gets done
… and many more!
No new articles this week.
There is no such thing as a great talent without great willpower — Honoré de Balzac
Sometimes, when you're different, you feel like a mistake. While in reality, difference is a gift, an advantage, real wealth
In this marvelous book, Aida gives us an opportunity to ponder a key unanswered question. What is life anyway? Aren't we all craving an answer?
Visuals that increase engagement
Thinking and learning links of the week
If you struggle with information overload, you'll want to read this book: Building A Second Brain by Tiago Forte. - What is a second brain?- The 3 most commo…
Fork My Brain - Fork My Brain
Bundle, transpile, install and run JavaScript & TypeScript projects – all in Bun. Bun is a new JavaScript runtime with a native bundler, transpiler, task runner and npm client built-in.
The next best engine for developers.
Playwright can either be used as a part of the Playwright Test test runner (this guide), or as a Playwright Library.
Indie Hacking and bootstrapping
Your description for this link…
There's a lot of talk about divergence of opinions. But where do they come from?
About Sébastien
Hello everyone! I'm Sébastien Dubois. I'm an author, founder, and CTO. I write books and articles about software development & IT, personal knowledge management, personal organization, and productivity. I also craft lovely digital products 🚀

If you've enjoyed this article and want to read more like this, then become a subscriber, check out my Obsidian Starter Kit, the PKM Library and my collection of books about software development 🔥.

You can follow me on Twitter 🐦

If you want to discuss, then don't hesitate to join the Personal Knowledge Management community or the Software Crafters community.