blog
Unlock Your Full Potential as a Knowledge Worker with the Knowledge Worker Kit
Knowledge work is everywhere, and information keeps getting more and more overwhelming. The Knowledge Worker Kit and its private community are here to help!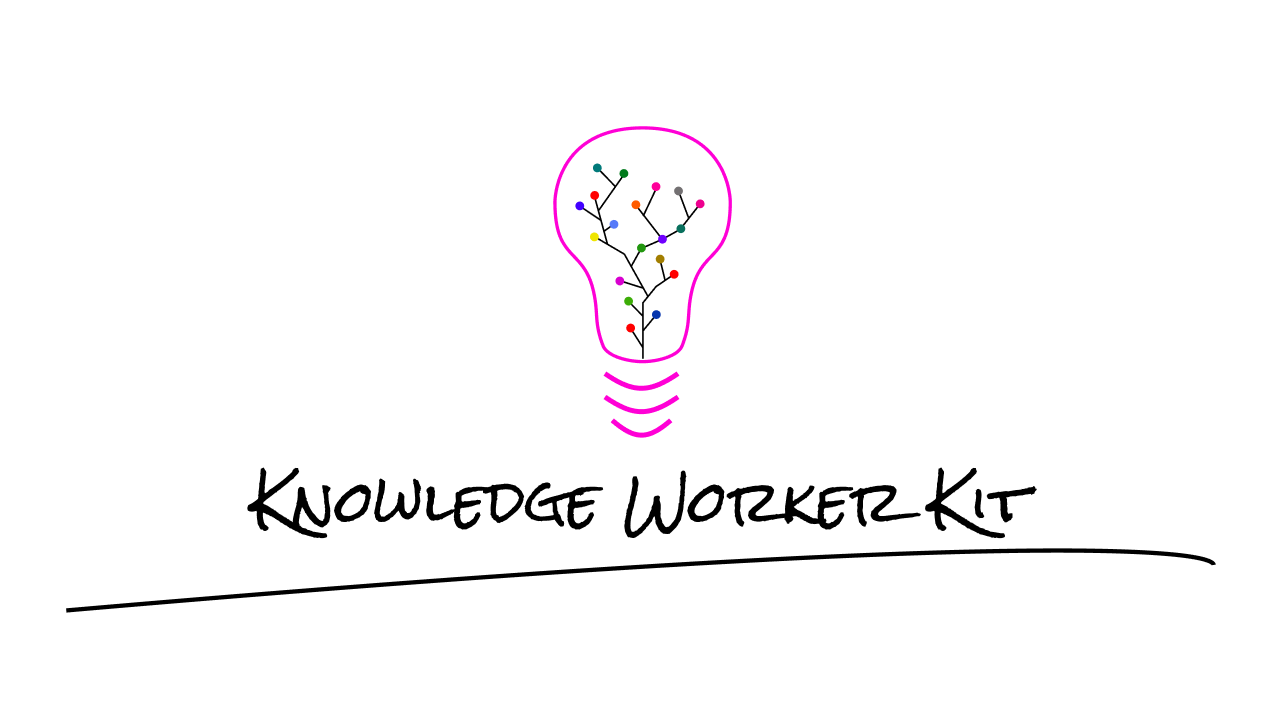 In today's fast-paced, information-driven world, knowledge workers play a pivotal role in driving innovation, solving complex problems, and keeping organizations competitive. But to excel in this demanding field, you need the right tools and strategies at your disposal. That's where the Knowledge Worker Kit comes in – a comprehensive resource designed to empower knowledge workers to reach their full potential.
The challenges Knowledge Workers face
Knowledge work comes with its unique set of challenges:
Information Overload: Knowledge workers often find themselves drowning in a sea of information, making it challenging to filter out the noise and focus on what truly matters.
Constant Learning: The need to continuously update and expand one's knowledge base is a core requirement for success in knowledge work.
Effective Collaboration: Collaborating with teams and peers to solve problems and share insights is crucial, but it can be complex and time-consuming.
Staying Organized: Managing vast amounts of data, documents, and notes can become overwhelming without a structured system.
The Knowledge Worker Kit comes to the rescue
The Knowledge Worker Kit is not just a product; it's a comprehensive solution designed to address these challenges head-on. Here's what makes it stand out:
Comprehensive Content: The kit will include a wide range of resources, from articles to in-depth guides, guidance, templates and checklists. You'll find everything you need to boost productivity, enhance learning, get on top of everything, and improve collaboration
Private Community: One of the most significant advantages of the Knowledge Worker Kit is access to an exclusive private community of like-minded knowledge workers. Here, you can share insights, ask questions, collaborate with others who understand the unique challenges you face and explore the community's resources
Lifetime Access: When you invest in the Knowledge Worker Kit, you gain lifetime access to a wealth of knowledge, resources, and tools that are continually updated. It's not just a one-time purchase; it's a long-term investment in your career
Guidance from an Expert: You're not just getting random information. I'm creating the kit based on my 20+ years of experience as a knowledge worker, entrepreneur and author. I juggle with a ton of information on a daily basis, and have developed processes, systems and workflows to stay ahead of the curve
Here's an overview of the topics that you'll get to explore with the kit: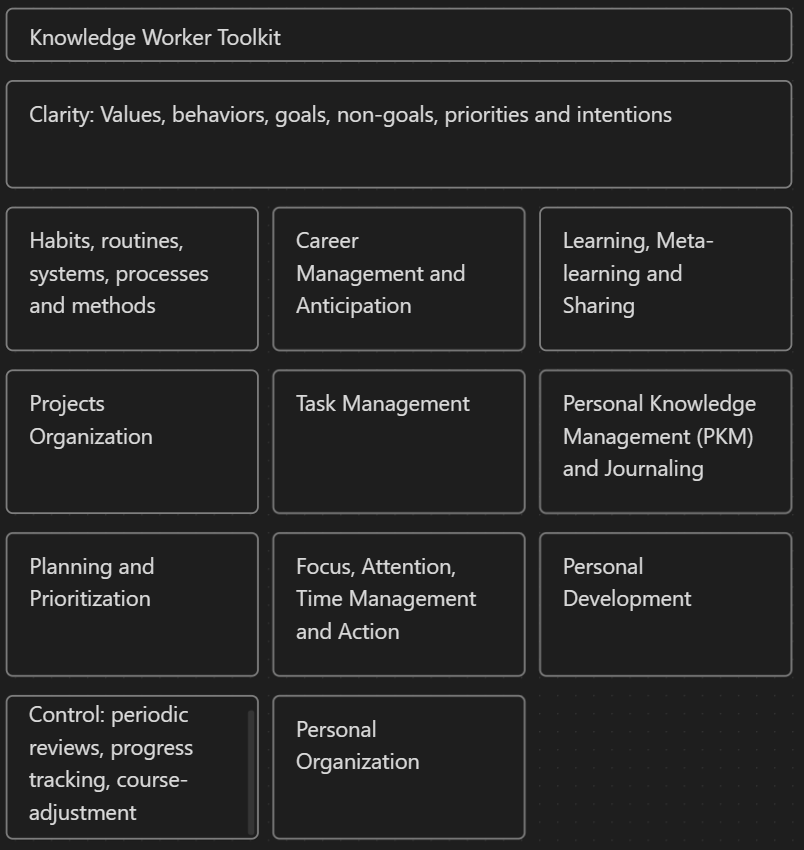 How the Knowledge Worker Kit Can Help You
Enhance Learning and Thinking: Discover how to stay updated in your field, create a Personal Knowledge Management (PKM) system, develop deep research and thinking skills and leverage modern AI tools, and more!
Boost Productivity: Learn task/time/priorities/focus management techniques, goal setting, strategies to overcome procrastination and be highly productive, all while protecting your mental health
Change your Career path: Make smart career decisions, and anticipate the future of work
Improve Collaboration: Master effective communication skills, best practices for project management, email and meetings, collaboration tools, documentation and leadership and management
Manage Information: Gain insight into organizing, managing, and protecting huge amounts of information effectively
Invest in Your Future
In the world of knowledge work, investing in your growth and development is crucial. The Knowledge Worker Kit is not just a product; it's your partner on the journey to success. With lifetime access to resources and a vibrant private community, you'll have the support and tools you need to thrive.
Don't wait to unlock your full potential as a knowledge worker. Invest in the Knowledge Worker Kit today and take your career to new heights. Your future self will thank you.
Ready to get to the next level?
If so, then check out the Knowledge Worker Kit, the Obsidian Starter Kit, the Obsidian Starter Course, the PKM Library, a PKM coaching session with me, my collection of books about software development and the IT Concepts Wall 🔥.

If you want to discuss, then don't hesitate to join the Personal Knowledge Management community or the Software Crafters community.
About Sébastien
Hello everyone! I'm Sébastien Dubois (you can follow me on Twitter 🐦).
I'm an author, founder, and CTO. I write books and articles about software development & IT, personal knowledge management, personal organization, and productivity. I also craft lovely digital products 🚀

If you've enjoyed this article and want to read more like this, then become a member.